2020 Beijing Nature Watch Festival Held Successfully
Urban Biodiversity and Citizen Science
2020-09-30
On September 26, the 2020 Beijing Nature Watch Festival was successfully held in the Olympic Forest Park. Under the guidance of Beijing Gardening and Greening Bureau and Peking University Center for Nature and Society, the campaign is jointly sponsored by Beijing Forestry Carbon Administration, Beijing Forestry Society and Shan Shui Conservation Center, aiming to provide opportunities for the public to observe and learn about nature and enhance public awareness of biodiversity conservation.
Studies have  shown that the 16,000 square kilometers of area within the wider Beijing is home to nearly 60 species of wild mammals, more than 500 species of birds, 20 reptiles, 7 amphibians, over 40 species of wild fish, and over 1,500  species of wild vascular plants.
Nature Watch Festivals bring together people who are passionate in natural sciences. The participation from the general public greatly enhances baseline data gathering for biodiversity research and conservation, through observation of distribution and population size of a range of species. The 2020 Beijing Nature Watch Festival focuses on the largest outdoor park in Beijing. As an ecological hot spot spanning over 680 hectares and welcoming more than 10 million visitors a year, the Olympic Forest Park can be regarded as the epitome of Beijing's urban nature.
"In this Nature Watch Festival, more than 1,000 nature lovers participated in an activity called "natural trace treasure hunting". They would collect leaves, fruits and other "natural traces" in the Olympic Forest Park, then draw a natural trace map of the Park and explore the current status  of ecosystems within urban parks. They would learn more aboutBeijing's  natural environment by learning about the Olympic Forest Park." said Shi Xiangying, executive director of Shan Shui Conservation Center.
During the Nature Watch Festival, multiple natural observation points were set up in the southern part of Olympic Forest Park. Experts were leading people in observing nature, sharing stories which provided the public with diverse opportunities to learn about nature.
The "City Biological Clock" – 2020 Nature Beijing Photo Contest was also launched during the Festival. This event motivated the public to record the diversity of animal and plant lifein the city as well as the coexistence of man and nature.
In the pursuit of becoming a world-class harmonious and livable city, Beijing's urban development is not only related to the image of the city, but also to the quality of life of the citizens. A healthy ecosystem benefits the universal well-being of people. Urban environmental development, especially landscaping, is facing a turning point from higher speed to higher quality. It needs to evolve from being "green and beautiful" to the next stage of bringing in better biodiversity.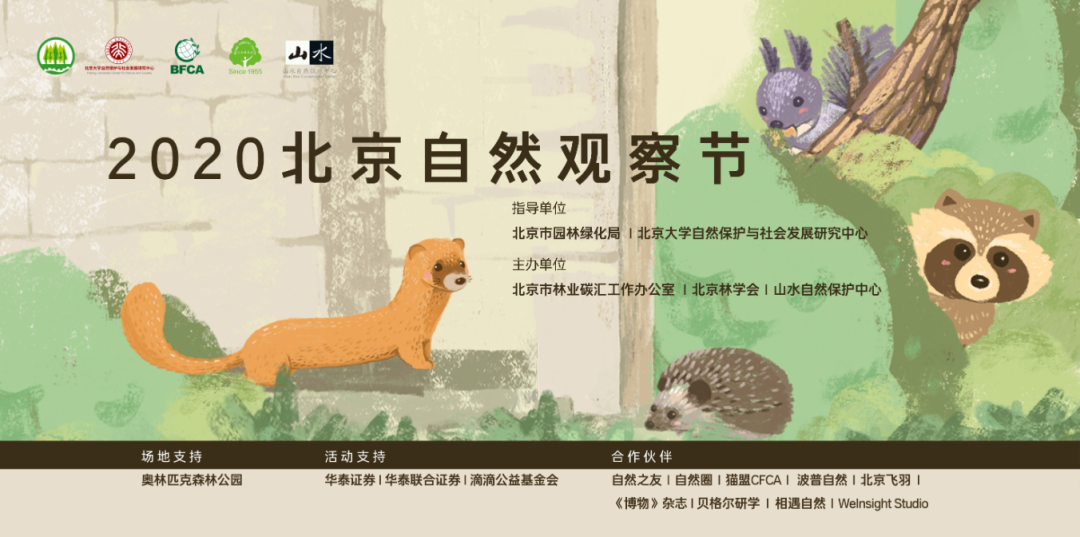 翻译/丰彦琪,校对/Emma
translated by Yanqi Feng, edited by Emma