COP15 NGO Forum Successfully held in Kunming and the released the results of "100+ Biodiversity Positive Practices and Actions Around the World "
CBD COP15 NGO Forum was held in Kunming during the 27-28th Sep. 2021. Over 400 representatives of government, NGOs, private sectors, youth, women, indigenous people and the public from 30+ countries attended the forum both online and on site.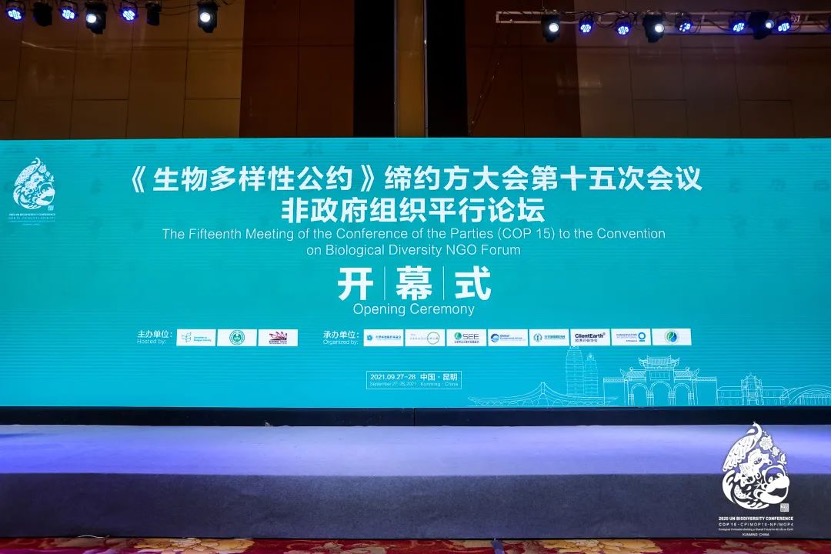 This forum had 5 topics include Nature-based Solutions to Climate Change—ASEAN-China Mangroves Ecological Corridor, Environmental NGO's Role in Biodiversity Conservation Mainstreaming, Release of the "Global Biodiversity Conservation Best Practices 100+ " and Discussion, Independent Contributions from Non-state Actors and the Post-2020 Goal for Biodiversity Conservation and Foundations Contributing to Biodiversity Conservation. Topic 3 released the results of the "100+ Biodiversity Positive Practices and Actions Around the World ", with round table discussions and award ceremony.
"100+ Biodiversity Positive Practices and Actions Around the World"
Guided by the CBD Secretariat and the Office of the Executive Committee for the Preparation of COP15, the "100+ Biodiversity Positive Practices and Actions Around the World" campaign was initiated on 20th Jul. 2021 and lasted 49 days until 7th Sep.  A total of 258 cases of 196 nominators from 26 countries on the 7 continents were received. After the preliminary review, pre-review and final review of the collected practices,108 cases were selected as Noteworthy Practices with 19 nominated as Outstanding Practices.
The practice collection demonstrates the global long-term efforts in protecting biodiversity through a wide range. Half of the practices are on-site conservation, including species conservation for mammals, birds, aquatic creatures and plants, and ecosystem conservation for forests, grasslands arid land wetlands and ocean. The other half demonstrates conservation measures such as legal approach, public participation, education, policy making, financing mechanism, technological innovation, sustainable use, genetic resources benefit sharing and traditional knowledge.
The diversity in nominees' background showed the determination and commitment of conservation from non-state sectors. Half of the nominees are NGOs, 20% are from private sectors, 20% are government departments and education institutes and 5% are urban and rural communities.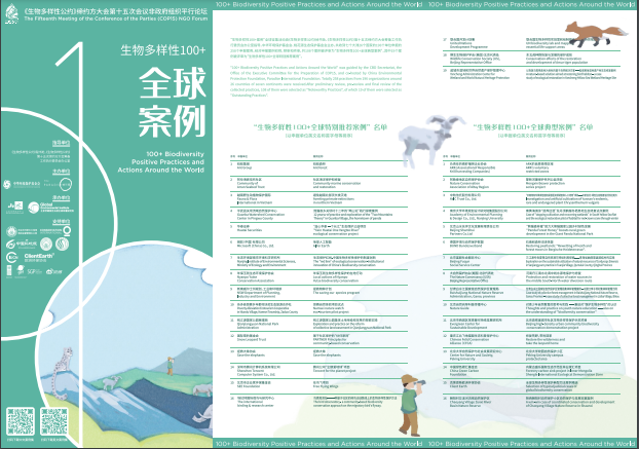 Click here to view the full list
Click to view the Selected Case Studies
Release and Discussion
9 representatives of private sector, research institute, foundation and community were invited to the forum to share case studies relating to policy, technology, on-site conservation, etc. These case sharing included the Ecological conservation Redline from Nanjing Institute of Environmental Sciences, Ministry of Ecology and Environment, AI for Earth from Microsoft China, One Yangtze River Project from Huatai Securities, Save the Elephant from Kenya and Community Ocean Management from Scotland. Caiwang Duojie, mayor of Angsai Township, shared the nature watch project operated by Angsai poverty alleviation and eco-tourism cooperative. He talked about how the cooperative participated in ecology conservation, community development and public participation as a pilot national park franchise in Sanjiangyuan area. Tencent for the Planet project powered by Tencent, on the other hand, showed how an internet company can bridge the public and biodiversity conservation via technology and the internet.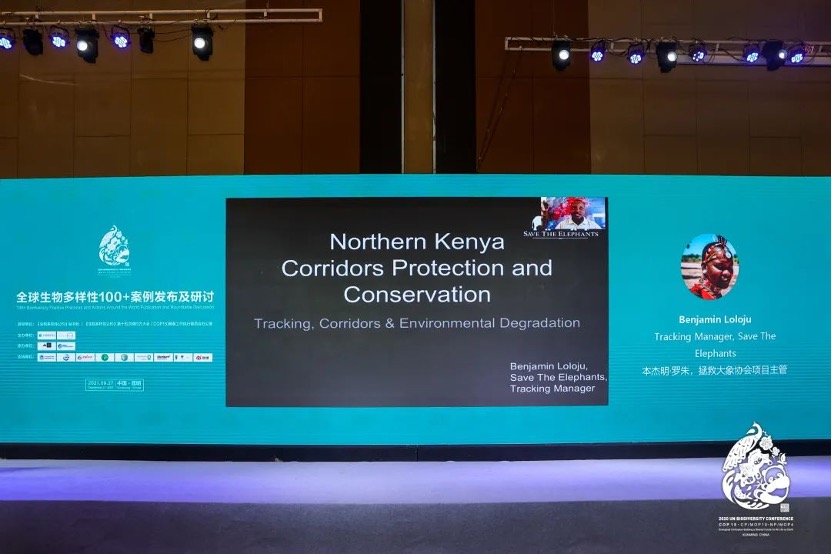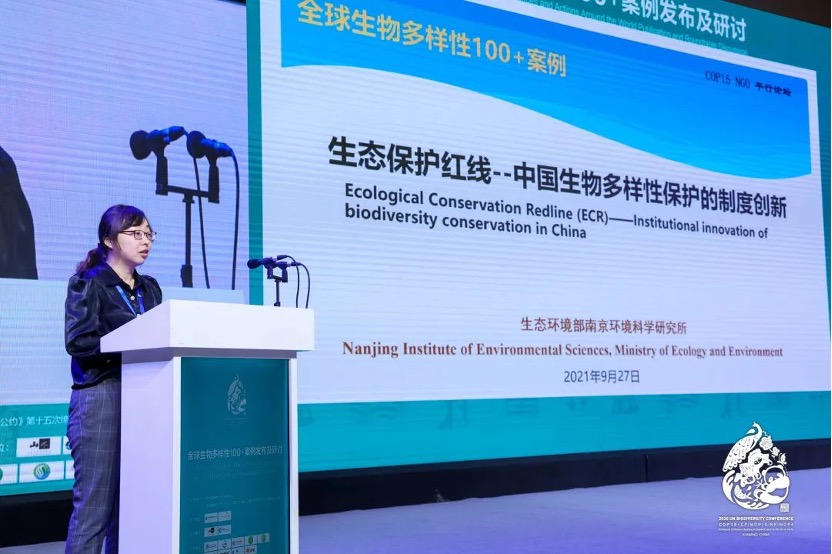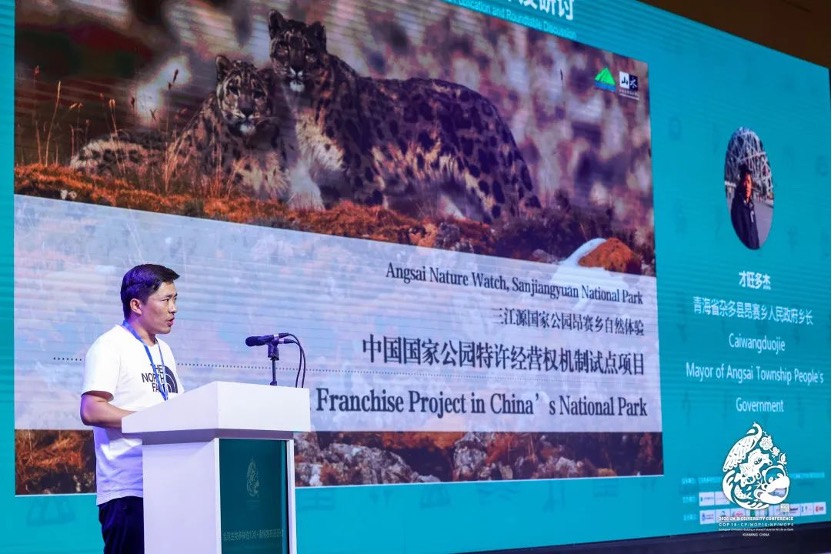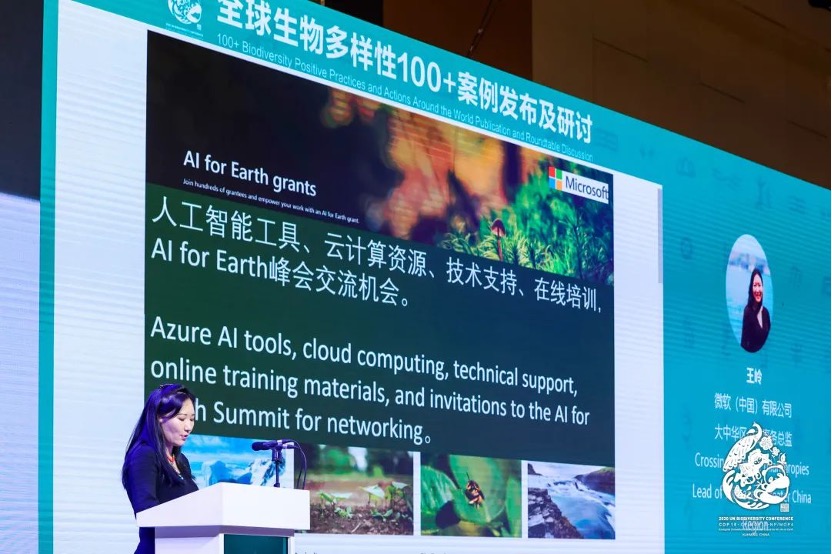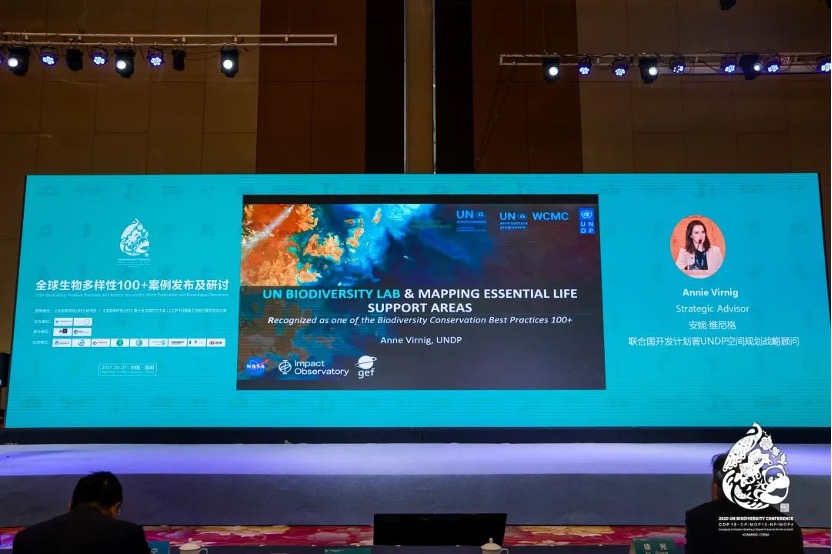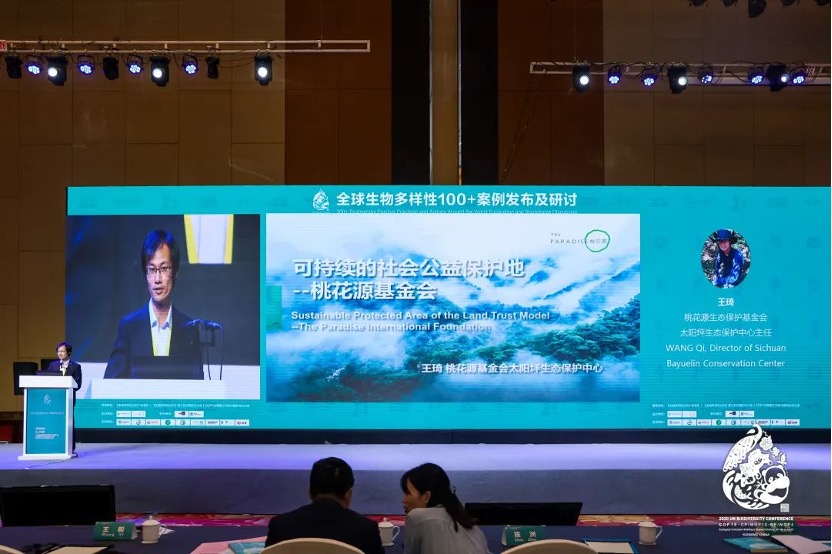 This was followed by a round table discussion hosted by professor Lu Zhi. Yang Meihong, Vice President of Ford China Communications and CSR, shared the story of Ford China supporting conservation for 21 years; Yang Fangyi, IUCN RIT National Coordinator, pointed out that this100+ Case Collection had broad participation with a good number of international cases demonstrating global experience; Kang Aili, WCS China Program Director, suggested that there was still a gap in the synergy of climate change and biodiversity conservation that deserved more attention; Peng Kui, Program manager at the Global Environmental Institute stressed on the contribution of NGOs to mainstreaming biodiversity conservation; Jiang Boya from ClientEarth mentioned that legal approaches, especially preventive lawsuits, had unique strengths in conservation and Wang Changlin from Qianjiangyuan National Park Administration introduced the experience of agricultural land ownership transformation and multi-organization cooperation. Apart from sharing insights on the 100+ Case Collection itself, the round table also discussed the role of NGOs around empowerment, public engagement, policy making and government cooperation.
In order to encourage and inspire more onsite practices, and reach more people with conservation stories, Liu Ning Executive Deputy Director of the COP15 Executive Office, Lu Zhi, professor of Peking University, Xu Guang, Secretary-General of China Environment Protection Foundation and Ma Jian, Vice President of Paradise International Foundation presented the award certifications to 55 organizations who attended the forum in person.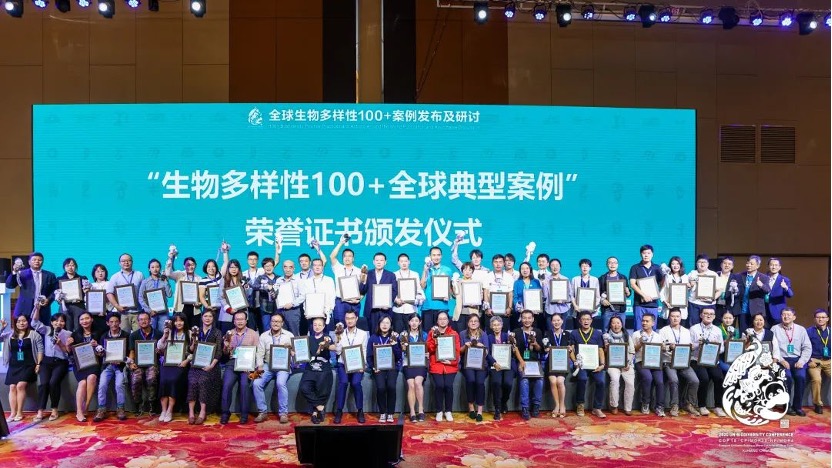 As part of the NGO forum, also part of the COP15, the 100+ Biodiversity positive practices and Approaches Around the World showcased the amount of efforts and determination shown from all over the world. The case collecting itself is a strong proof of ambition from non-state sectors and support for the establishment of the ambitious post-2020 framework. It is also an experience exchanging opportunity for the world in the hope of inspiring more actions in support of biodiversity conservation and its sustainable use.